Timeline
MotorSport Vision acquired the Brands Hatch group of circuits in 2004, but its story began much earlier as former Formula 1 driver turned entrepreneur Jonathan Palmer took his first steps into the business world.
1991
Jonathan launches the "Jonathan Palmer Promo Sport" corporate driving event at Bruntingthorpe proving ground.
1998
Palmer establishes Formula Palmer Audi (FPA) as a fair and affordable single-seater championship for aspiring young drivers.
1999
Bedford Autodrome, purpose built for the PalmerSport driving event, formally opens. The event moves there full-time three years later.
2003
Justin Wilson, the first FPA champion, progresses to F1 with Minardi and Jaguar, thanks to an innovative share scheme masterminded by Jonathan, Wilson's manager.
2004
MotorSport Vision (MSV) is founded by Jonathan Palmer, Sir Peter Ogden and John Britten.
MSV purchases a number of well-known race circuits in the UK: Brands Hatch, Oulton Park, Snetterton and Cadwell Park, and immediately sets about turning around their fortunes.
2005
A1 Grand Prix World Cup of Motorsport makes its international debut in front of a huge crowd at Brands Hatch.
2006
MSV forms MotorSport Vision Racing (MSVR) to provide a complete car and bike racing organisation capability to the MSV group.
MotorSport Vision's in-house trackday division, MSV Trackdays (MSVT), launches the same year.
2008
MSV acquires the commercial and organisational rights for the British Superbike Championship. Its first event, at Brands Hatch in April, is abandoned due to heavy snow!
2009
The FIA Formula Two Championship, operated by MSV, commences in Valencia, Spain. It would run for four seasons.
MSV forms a partnership with BMW to provide a fleet of vehicles for its driving experiences, the PalmerSport event and for race meeting operation.
2010
MSV opens Bedford Aerodrome, a CAA licensed airfield with a 1,100m runway, based right next to the circuits.
2011
Snetterton undergoes a comprehensive transformation to create a new infield section and raised viewing banks, extending the circuit's length to 3 miles.
2012
Brands Hatch hosts the Road Cycling events at the 2012 London Paralympic games.
2013
The pioneering BRDC F4 championship is formed. Its second champion, in 2014, is future F1 star George Russell. BRDC F4 will later evolve to become British F3 before being rebranded as GB3.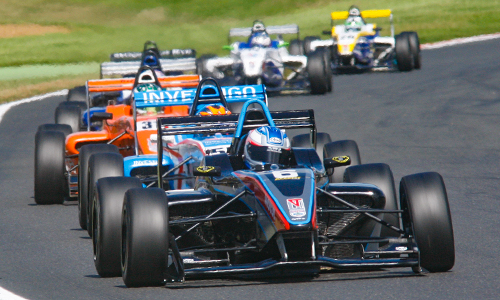 2015
MSV completes the freehold purchase of Couvron, a substantial former military airbase in north-east France. MSV has unveiled fresh proposals to establish the site as the world's first self-sufficient eco circuit.
2017
Jonathan Palmer reaches agreement with Kevin Wheatcroft for MSV to take over the Donington Park circuit business and to lease the estate.
2018
MSV completes a multi-million pound redevelopment of Donington Park including Garage 39, a superb new bar, café and restaurant.
2021
MSV purchases the freehold of the Donington Hall Estate comprising Donington Hall itself, former office building Hastings House and the Lansdowne workshops. The Hall will become a luxury country hotel.
2022
MSV is the successful bidder for the freehold purchase of Circuito de Navarra in northern Spain. It officially becomes part of the group from 1 November 2022.